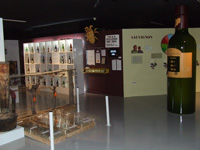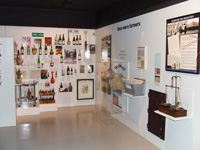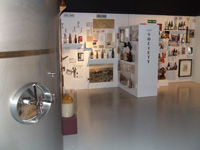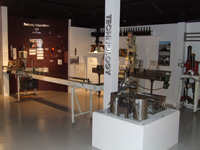 The Wine Exhibition is a permanent museum exhibition, showcasing the history of wine, and viticulture in Marlborough, New Zealand. It has been designed so that there is much of interest to a general as well as a specialist audience. This exhibition is the prefect introduction to wine in Marlborough, an excellent starting point for anyone who wants to add to their understanding of our wine heritage, and how it relates to today.
The exhibition is recognised as the best wine exhibition in Australasia.
Exhibits include iconic, old, rare and unusual wines, interesting viticulture, and winemaking equipment, educational audio visuals, interactive displays, oral histories, memorabilia, photos, stories, wine brand histories.
The Wine Exhibition is a must-see in the itineraries of visitors to Marlborough – wine writers, sommeliers, distributors, trade visitors, tourists, travel writers, immigrants, investors, friends and family. The exhibition is regarded as the perfect introduction to wine in Marlborough, and an important first stop before you head out to your winery tours.
Our Wine Exhibition Curator is Dr Adam Friend, scientist, viticulture expert, and gifted science communicator (formerly of the Marlborough Research Centre). The exhibition designer was Sally Papps, well known curator, artist, and designer of Nelson. The Project Manager was talented Marlburian, Virginia Watson.
Funding Grants:
Marlborough District Council | Marlborough Lines | The Lotteries Commission.
Premium Reserve Sponsor:
Hunter's Wines |Aunstfield |Yealands Estate Wines |Jackson Estate |Nautilus Estate |Wither Hills
Limited Edition Sponsors:
Forrest Estate | Lawson's Dry Hills | Fromm Winery | Villa Maria Estate | The Ned |Pernod Ricard (Montana Wines)
Cellar Selection Sponsors:
Highfield Estate |Cloudy Bay Vineyards |Huia |Clos Henri |Mt Riley |Domaine Georges Michel |Astrolabe Wines |Constellation NZ (Drylands Winery)|Herzog Winery |Churton |Dog Point Vineyards
Premium Business Reserve:
Gilbert Haymes & Associates | Bayleys Marlborough |Cuddon |Nelson Marlborough Institute of Technology (NMIT) |Wine Marlborough |Wallace Diack Chartered Accountants | Rapaura Vintners |Bank of New Zealand
Business Select Sponsors:
Ormond Nurseries |Marlborough Wine Research Centre
In-kind Sponsors:
The Marketing Department | Borland Painting | Taylors Engineering | Parkers Business Solutions | Equus Industries | Peters Doig Chartered Accountants.
Donors and Helpers
There are too many to list here, but Marlborough Museum sincerely thanks all those who have donated old wines, artefacts, stories, books, information, photographs, and other items. In particular, we would like to acknowledge the work of our volunteers John Rainey, Belinda Vavasour, Jenny Pierson, Pam and Tom Woodward and the Marlborough Historical Society.
Exhibition Contacts:
Steve Austin, Chief Executive 03 578 1712