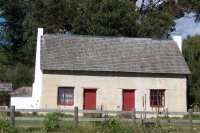 Cob Cottage is a good example of how early Marlburians constructed dwellings in a region without a close supply of timber. 'Cob' is a building material made from a mix of earth and tussock grass.
Cob Cottage is located on State Highway 1 in Riverlands on the outskirts of Blenheim, and boasts being the most visited historic home in Marlborough.
In the early 1900s it was used as Riverlands School. When you visit Cob Cottage you can see photos and stories from those early days.
Download Riverlands Cob Cottage Booklet (968kb pdf)
Marlborough Express story about historic buildings in Marlborough (45kb pdf)
Watch a short video clip of children dressed in period costume in a recreation of school as it was at the Riverlands Cob Cottage.