Te Pokohiwi – The Wairau Bar 1250 AD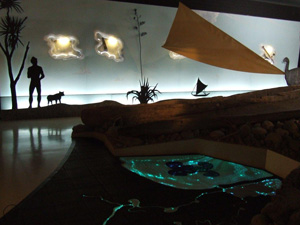 This exhibition focuses on the most significant recent discoveries about the people of Aotearoa - New Zealand. This is a land mark exhibition about the understanding of the people of our land, and their origins in East Polynesia.
The Wairau Bar is a most significant site in the archaeology of Marlborough, and also the Pacific. It is the place where the ancestors of Maori today rest. These are the earliest known graves in the country. The guardians of the site are Rangitane iwi. Due to the foresight of Rangitane, and their work with archaeologists and scientists, we have had an explosion of information in recent years. These insights are shared in this exhibition.
At least four graves on the Bar belong to the first generation of Polynesian settlers.The latest scientific work has proven that these people were once children in East Polynesia. While current DNA research will hold the key to their exact origins, this new permanent exhibition summarises the key points that are relevant today in understanding our origins, and daily life in the 13th C.
Brilliant exhibition design, with clear information, and fascinating artefacts will inspire you!
The Wine Exhibition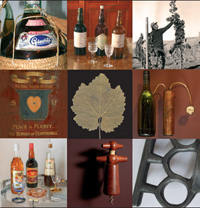 The Wine Exhibition is a permanent exhibition, showcasing the history of wine and viticulture in Marlborough.
Exhibits include iconic, old, rare, and unusual wines, interesting viticulture and winemaking equipment, educational audio visuals, interactive displays, oral histories, memorabilia, photos, stories, and wine company histories.
There is plenty to entertain and educate the visitor including:
A wine bottle shaped oral history centre where visitors can listen to industry pioneers, such as Jane Hunter and Gerry Gregg, tell their story.
An Environment display that shows soil profiles of the region that match Sauvignon Blanc flavours.
A Cultivars Wall showing differences in cultivars and wines made from them. A technology section that highlights innovation and kiwi ingenuity: a home made wine bottle labelling machine, corkers, tipping tanks, leaf plucker, and wine pumps.
A Contemporary Change wall, that demonstrates how the face ofMarlborough has changed through the years.
A Decades Wall showcasing 'society and wine' through the years, from the 1800's.
Displays showcasing twenty four individual wine companies, who sponsor the exhibition.
The Victorian Rooms
Our Victorian Rooms showcase collections in the context of a nineteenth century replica bedroom, sitting room, and kitchen. Each room provides a fascinating insight into the function of the Victorian home. The rooms relate to different types of homes showing how European settler families lived over 100 years ago.
Other displays relate to: The Wairau Affray
Wild Things - Marlborough Natural History set in a Colonial Naturalist's Study
A great introduction to Marlborough plants, birds, fossils and crystals. Set in a Victorian naturalist's study, inspired by Sir David Monro. Check out our drawers!
For more information view this pdf
Fran Maguire Domestic Goddess 6o Bowls and Cups
This exhibition includes an amazing reference collection of work from a 20 year period recently donated by Fran Maguire. In addition we have added a number of works by Fran from our collection. The range of creative concepts and technical achievement has been amazing our visitors!
KIWIANA
A mind boggling selection of items unique to New Zealand, especially from the early to mid-twentieth century. Our exhibition includes pop culture, toys, food brands and souvenirs with a touch of kitsch!
TIKI TAONGA
The exhibition includes Tiki from our collection and our local community, including notable early example from before 1850, on until March 2021.
Anyone who would like us to display an image of themselves wearing their tiki would be most welcome to email us with a high resolution file (about 1 MB) that we can print and add to our display. We would you to include a sentence about what wearing this tiki means to you. Please email images to info@marlboroughmuseum.org.nz
BANKSY'S BOOK
Extracts from the Diary of Joseph Banks, written in Meretoto – Ship Cove while on board the Endeavour, 12 January 1770 – 6 February 1770, have been the source of inspiration for embroidered panels, a project initiated by the Marlborough Embroiderers Guild.
Steve Austin proposed the Diary as an ideal starting point because of it's personal account and insights, and then selected short extracts to be illustrated.
Caroline della Porta created line drawings based on these references, her experience as an illustrator, and her B.A. in Textiles/Embroidery.
The designs were prepared for the Marlborough Embroiderers Guild and as a learning resource for Heritage Education.
There are 18 panels in the Embroidered Series, to be completed in 2020 (for the Marlborough Museum Collection), and 30 panels in the Drawn Series, as a resource for local Heritage Education. Here is the text that inspired the embroidered panels, a publication is being considered.
' … in regard to Mr Banks's great personal merit and for the advancement of useful knowledge, he also, together with his suite, being seven persons more …
be received on board.'
Daniel Carl Solander, Naturalist
Hermann Spöring, assistant draughtsman
Sydney Parkinson, artist
Alexander Buchan, artist
John Reynolds, artist
Peter Briscoe, servant
James Roberts, servant
Thomas Richmond, negro servant
George Dollin, negro servant
Set sail 25 August 1768
12 January 1770
This Morn we were abreast of the great hill, but it was wrapped up in Clouds, & remained so the whole Day, it is probably very high as a part of its side which was for a moment seen was covered with snow …'
15 January 1770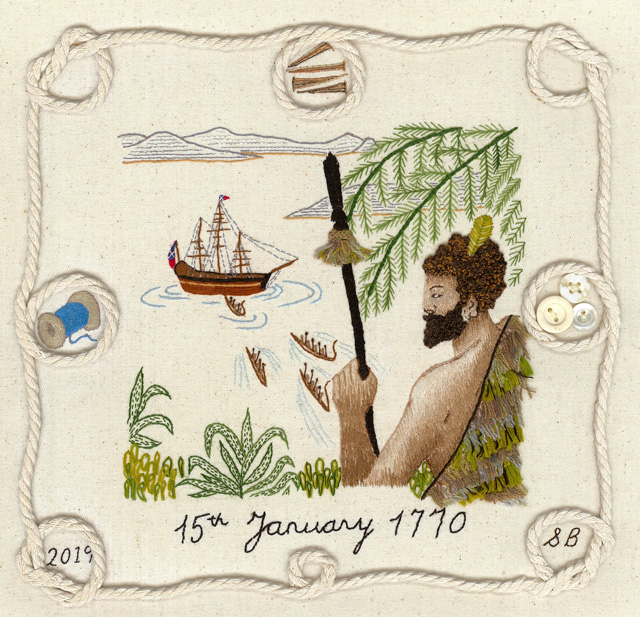 ' The Countrey about us was now very fertile to appearance and well wooded, so we came to an Anchor … four Canoes were immediately dispatched … all well armed …'
15 January 1770
' A very Old Man in one of the Boats expressed a desire of coming on board which we immediately encouraged and threw a rope into his Canoe …
he was receiv'd in as friendly a manner as we possibly could, & had many presents given to him …'
16 January 1770
' They had in their Canoes some Fish, which they offered to sell & we to buy, so a man in a small Boat was dispatched among them to trade …'
16 January 1770
' … they … paddled peaceably enough round the Ship & at last came under the Stern to Tupia, & discoursed with him about their antiquity & Legends of their Ancestors. '
16 January 1770
' The women in these canoes and some of the men had a piece of dress which we had not before seen, a bunch of black feathers made round & tied upon the tops of their heads which it intirely covered … '
17 January 1770
' This Morn I was awakened by the singing of the Birds ashore … perhaps their voices were certainly the most melodious wild musick I have ever heard, almost imitating small Bells, but with the most tuneable Silver sound imaginable …'
18 January 1770
' We saw a Man in a small Canoe fishing … he took up his nets & shew'd us his machine which was a circular net about seven or eight feet in Diameter.'
18 January 1770
' We shot many shags from their nests in the Trees & on the Rocks; these Birds we roast or stew & think not bad provision so between Shags & Fish, this is the place of greatest plenty of any we have seen.'
19 January 1770
' … they brought plenty of Fish, which they sold for nails, of which they had by this time learnt the value.'
25 January 1770
' Dr Solander & myself (who have now exhausted all the Plants in our neighbourhood) went today in search for Mosses and small things …'
25 January 1770
' … these People came a good way to meet us at a place where we were shooting Shags, & invited us to the place where the rest of them were 20 or 30 in number, Men, Women, Children, Dogs &c we went & were receiv'd with all possible demonstrations of friendship if the numberless hugs & kisses we got from both sexes old & young in return for our Ribbands & Beads maybe accounted such; they also sold & gave us a great many fish with which we went home well pleased with our acquaintance.'
30 January 1770
' Bad Weather to Day, myself out gathering shells in which I had some success.'
3 February 1770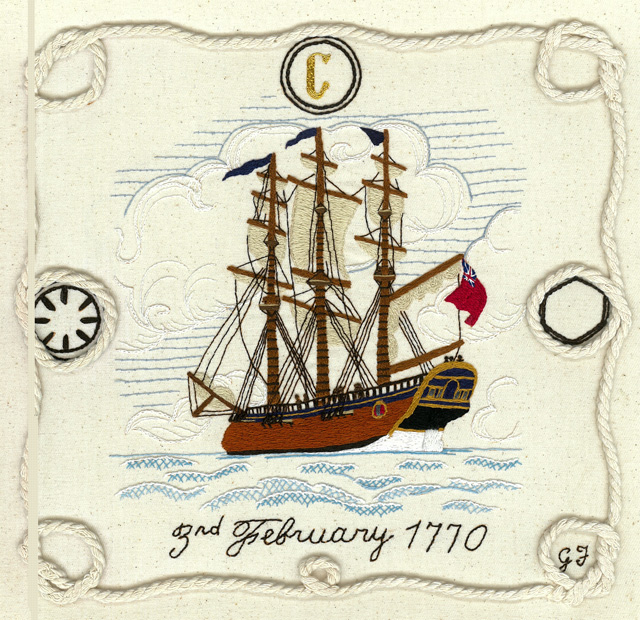 ' Fine Weather and the Ship began to prepare for sailing …'
4 February 1770
' Yesterday 2 of our Boats went out … the People of one said that they had met a Double Canoe …'
5 February 1770
' Old Man Topaa was on board, of whom Tupia asked many questions … he believed his ancestors were not born there but … the place from whence to Tupia & the Islanders also derived their origin …'
5 February 1770
' … fell in by accident with the most agreeable … family we had seen … 17 People, the head of it was a pretty Child of about 10 years old.'
5 February 1770
' … most unlucky I shall always esteem it that we did not sooner get acquainted with these people, from whom we might have learnt more in a Day of their manners & Dispositions, than from all that we have yet seen.'
6 February 1770
' Foul Wind continued, but we contrivd to turn out & get into the Streights which are to be call'd Cooks Streights …'
7 February 1770
' A large hill was seen with much Snow upon it on the SW side … it proved to be very far inland, that we could hardly trace its outline, so probably it is very high indeed.'
7 February 1770
' The Land between us & it was flat for a large extent … a small Smoke upon it in the Even was the only sign of Inhabitants that we saw.'