Welcome to the Heritage Education Programme
We are all about how life was in the early days ...
Museum-based programmes operate from Marlborough Museum, at Brayshaw Park. We use a wide range of on-site displays and resources to provide innovative, effective, and fun learning experiences.
Programmes outside the Museum feature field trips to sites of historic, cultural, or geological significance, overnight camps or tutored activities, at or near, your own school.
Options are flexible and readily adaptable to your specific learning objectives. Talk to us in advance with your ideas and requirements.
Resources
Our huge range of teaching resources includes a large collection of museum artefacts from past days which students may study and use in their activities.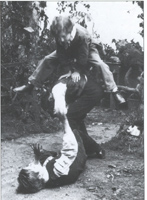 The replica village of Beavertown provides an exciting environment for role-play and heritage games, and a purpose-built Learning Centre provides a traditional classroom and plenty of space for hands-on learning.
The Museum's modern Audio Visual Theatre is used for a variety of innovative experiences.
The resources and collections of other heritage organisations at Brayshaw Park, including the Vintage Farm Machinery Museum, the Vintage Car Club Museum, the Riverside Railway, and the Rock and Mineral Club may also be incorporated into specific visits.
Programme
Heritage Education offers 6 subject areas, each with a list of programmes on offer. Browse through the programmes and book your school group by calling the contacts below.
Class Camps
We can help make your camp a really effective and enjoyable learning experience for all. We offer:
A pre-camp AV presentation on the history and geography of the area. Alternatively this presentation can be shown on-site as part of camp activities;
A visit to the camp to run a variety of activities and outdoor pursuits - amateur archaeology is very popular. Adaptable to any level. Contact John to discuss options.
Cluster Challenge Day
For a fun day of learning activities, get together with other schools for a combined "History Challenge" day. We will arrange the activities for you, liaise with the schools involved and co-ordinate. Especially popular with smaller rural schools. Contact us to discuss ideas and options. All levels.
Contacts
Senior Teacher: Blair Walker
Tel (03) 578 1716
Fax (03) 578 1739
Costs?
Our programme is free to all schools, however an additional materials charge may apply for some pupil activities. Teachers and accompanying adults are free.
Transport and accommodation costs (where applicable), and appropriate LEOTC Risk Management procedures, are the school's responsibility. Both our experienced teachers are registered and hold current first aid certificates and will work to implement great experiences for all.
Sponsored by